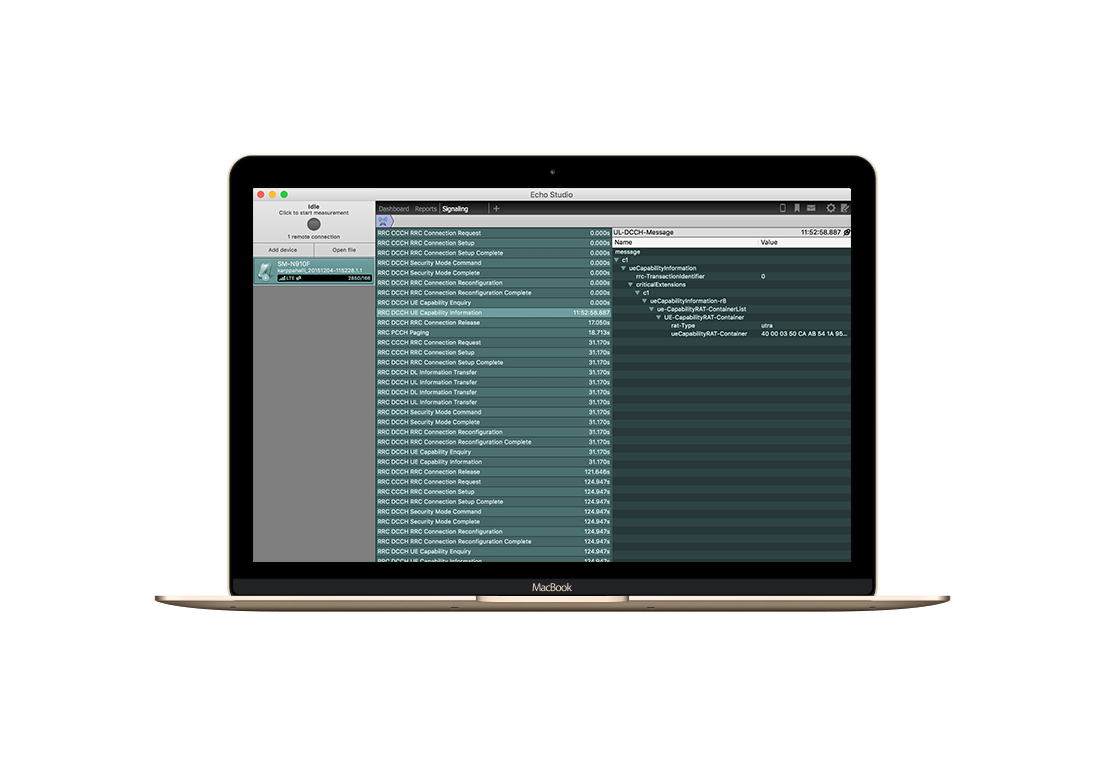 WINDOWS, MacOS AND LINUX
 SIGNALING VIEW WITH DECODE
  CLOUD ALWAYS INCLUDED
   CUSTOMIZABLE REPORTS
 IBWAVE INDOOR MAP SUPPORT
---
Echo Studio is a measurement and analysis tool which offers quick and easy way to produce reports and visualizations of the measurement test results.
Synchronization with Echo Cloud enables instantaneous report production of measurements performed remotely with other Echo devices. Echo devices can also be controlled with Studio remotely.
When it comes to Echo Studio analysis option, it allows powerful log file analysis and reporting of all Echo log files. Its easy and intuitive Quick Plot engine allows the fastest and the easiest plotting of measured data in the market. For more customized reporting, Echo Studio comes with a powerful reporting engine that allows users to make Excel-based report templates.
The Echo Studio measurement option allows multi-device data collection. The fully automatic device detection ensures that no user configuration is needed when connecting the test devices. Echo Studio's distributed data processing enables the collection of data using large number of devices, making Echo Studio the optimum benchmarking solution.
Echo Studio is a software-only product and it runs on Windows, MacOS and Linux operating systems. Its licensing is delivered via our Cloud service. This cloud-based solution is completely independent of physical production chains. Thus, the deliveries and manufacturing capabilities are stable, swift, and flexible.